Empezaremos con la portada revelada de Winter porque
a todos nos sorprendió y encantó por lo bonita e interracial que era.
¿La blancanieves morena?, ¡me apunto!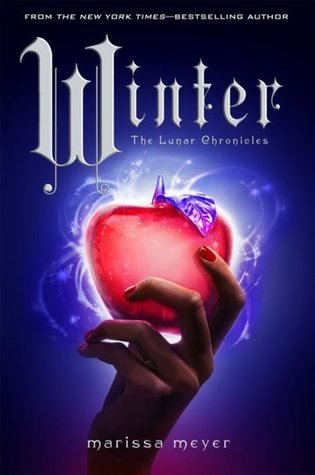 Y aquí, la sinopsis
:
Here is the stunning conclusion to the national bestselling Lunar Chronicles, inspired by Snow White.
When Princess Winter was thirteen, the rumor around the Lunar court was that her glamour would soon be even more breathtaking than that of her stepmother, Queen Levana. In a fit of jealousy, Levana disfigured Winter. Four years later, Winter has sworn off the use of her glamour altogether. Despite her scars, Winter's natural beauty, her grace, and her gentleness are winning admiration from the Lunar people that no amount of mind-control could achieve.
Winter despises her stepmother, but has never dreamed of standing up to her. That is, until she realizes that she may be the only one with the power to confront the queen.
Can Cinder, Prince Kai, Scarlet, Wolf, Cress, Thorne, Princess Winter, and the palace guard Jacin find their happily ever afters? Fans will LOVE this amazing conclusion to the series.
Y como sorpresita especial, SunShine os ha traído...
UN PEQUEÑO EXTRACTO DE

WINTER
Ahora cambiemos de historia y vayamos con el tráiler revelado de
CIUDADES DE PAPEL
con nuestro adorado Natt Wolf y nuestra querida Cara Delevingne.
Aunque no me haya leído el libro, la película, francamente, me atrae muchísimo. El reparto, aun más. Además, con el tráiler ya se nota un montón que es made in John Green's head.
Y por último pero no menos importante, nuevas noticias sobre nuestra serie favorita...
SHADOWHUNTERS
.
Nos hemos enterado de que SHADOWHUNTER se emitirá en el canal ABC Family y ¡ya tenemos la
cuenta oficial
de twitter de la serie! Empezará a grabarse este Mayo en Toronto.
Desafortunadamente aun no sabemos nada sobre el reparto
pero ya lo iremos sabiendo.
De momento debemos conformarnos con la sinospis.
SINOPSIS:
"Shadowhunters" follows 18-year-old Clary Fray, who finds out on her birthday that she is not who she thinks she is, and she comes from a long line of Shadowhunters — human-angel hybrids who hunt down demons. When Clary's mother Jocelyn is kidnapped, Clary is thrown into the world of demon hunting with mysterious Shadowhunter Jace and her best friend, Simon. Living among faeries, warlocks, vampires and werewolves, Clary begins a journey of self-discovery as she learns more about her past and what her future may hold.
Y eso es todo por hoy, mis sedientos dimensionistas.
by SUNSHINE,
LA QUE INFORMA.